Established in 2018, INDAS (INdustrial DataScience) is an interdisciplinary research group formed by a collaboration between the computer science department and mechanical engineering department at Frankfurt University of Applied Sciences.
The group aims to bridge the gap between applied data science and Industry 4.0 by focusing on machine learning in industrial use cases, including but not limited to, predictive maintenance, quality, and productivity. Specifically, INDAS seeks to address industry 4.0 problems related to predictive maintenance from a data science and computational science perspective, and designs machine learning solutions for industrial processes.
Research Focus
Contact: fatima.butt(at)fb2.fra-uas.remove-this.de
Current Research:
Extracting relevant features from time series to reduce pre-processing effort
Using state-of-the-art techniques such as wavelet transforms along with deep learning models such as CNNs, LSTMs, and transformers to classify the different industrial processes and biomedical signals such as Electrocardiograms
Applying our algorithms on a variety of datasets such as human activity recognition, industrial production, and ECG datasets
Contact: anahita.farhang-ghahfarokhi(at)fb2.fra-uas.remove-this.de
Current research area:
Time-series analysis to predict energy consumption
Time-series analysis to optimize process parameters
Previous research area:
Event analysis in production and business processes and cooperation with industry in the area of car manufacturing, printer manufacturing, and textile production
Process comparison and analysis: Deviation detection in business processes and bottleneck analysis to increase the performance of the processes
Contact: binder(at)fb2.fra-uas.remove-this.de
Current research area:
Industrial and data-driven after-sales service development
Previous research area:
Service business model development for different customer groups of a company from the machinery and plant engineering sector
Development of an evaluation scheme for service partners for a company in the mechanical and plant engineering sector
Publications
F. S. Butt, J. Schäfer, M. F. Wagner, D. Stegelmeyer and D. Gómez-Ullarte Oteiza. "Application of CRISP-DM and DMME to a Case Study of Condition Monitoring of Lens Coating Machines" in 2023 IEEE International Workshop on Metrology for Industry 4.0 & IoT (MetroInd4.0&IoT), Brescia, Italy, 2023, pp. 409-414 https://doi.org/10.1109/MetroInd4.0IoT57462.2023.10180178
F. S. Butt, M. F. Wagner, J. Schäfer, and D. G. Ullate. "Towards Automated Feature Extraction For Deep Learning Classification of Electrocardiogram Signals," in IEEE Access, vol. 10, S. 118601-118616, 2022, doi: 10.1109/ACCESS.2022.3220670.

F. S. Butt, M. F. Wagner, J. Schäfer, and D. G. Ullate. "Time series Analysis using Machine Learning Techniques: Medical and Industrial Applications", Actas de las II Jornadas de Investigación Predoctoral en Ingeniería Informática (JIPII 2022). June 2022. ISBN 978-84-89867-48-2. [Online]. Available: https://rodin.uca.es/handle/10498/27607.
Jörg Schäfer, Baldev Raj Barrsiwal, Muyassar Kokhkharova, Hannan Adil, and Jens Liebehenschel. "Human activity recognition using csi information with nexmon". Angewandte Wissenschaften, 11(19), 2021, special issue "SI: Sensor-Based Human Activity Recognition in Real-World Scenarios", 2021, doi: 10.3390/app11198860.

Baldev Raj Barrsiwal, Jens Liebehenschel, and Jörg Schäfer. "Ml approaches for human activity recognition with low-cost hardware". In Embedded Software Engineering Kongress 2021 digital, Nov 2021.

Fatima Sajid Butt, Luigi LaBlunda, Matthias F. Wagner, Jörg Schäfer, Inmaculada Medina-Bulo, and David Gómez-Ullate. "Fall detection from electrocardiogram (ECG) signals and classification by deep transfer learning". Information, 2, 12, Sonderausgabe "SI: Computer Vision for Biomedical Image Applications", 2021, doi: 10.3390/info12020063.
Research Projects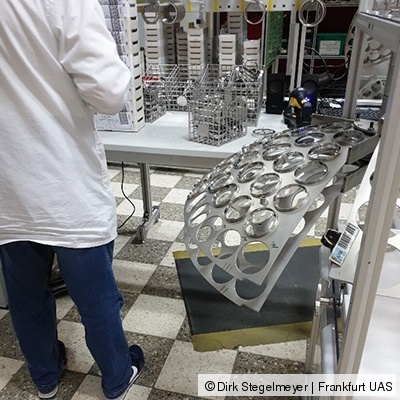 Results:
1.) ML models enabled much-prolonged cleaning intervals saving time and money
2.) A better understanding of critical process parameters was achieved
Contact person: Fatima Butt, Anahita Farhang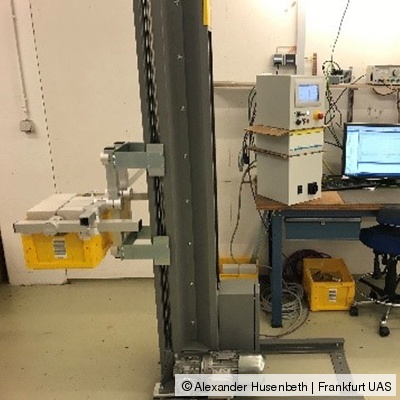 Results:
The lifting device had to be calibrated by the operator with a proper counterweight
Obtained actuator data from Beckhoff CX9020 Ethernet control system for different configurations during training
Thus, collected data proper and improper configurations
Machine Learning Goal: predict configuration from sensor data and trigger warning in case of improper configuration
Contact Person: Jörg Schäfer
Project and final theses in the research area of INDAS