Innovative technical developments create challenges for legal evaluation models and working worlds. Examples of this are autonomous driving, self-learning systems, and so-called "legal tech" applications. The integration of "artificial intelligence" is often discussed in this context. discussed.
The Research Lab for Law and Applied Technologies (ReLLaTe) addresses these questions with a research-based and application-oriented approach.
ReLLaTe is a skill center for law and applied innovative technologies and sees itself as a think tank interested in practical benefits. It is primarily focused on the three main aspects:
application-oriented research,
target group-oriented transfer into practice, and
practice-oriented teaching as a result of research.
Current research projects
Prof. Dr.
Olaf Meyer
Professor of Civil Law, in particular Law of Contracts and Contract Design
Building 4, Room 404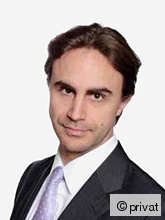 RA Sebastian Schüßler
Rödl & Partner
Attorney, Digitalization Manager - Legal Technology
Founding Member of the ReLLaTe