Moritz Kaltenbrunner, Business Law LL.B., 7th Semester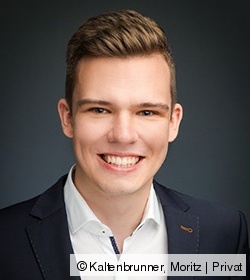 Business law - that sounds dry as dust... This or something similar is what you hear from many sides again and again. This may be true for others, but not for me! From my point of view, the program offers the perfect combination of legal expertise with a business mindset and thus perfectly prepares students for their future careers. Professors and lecturers prepare the content for us students in an appealing way and ensure that we are one step ahead with a lot of practical knowledge.
For me, the internationality of the university at the banking location Frankfurt am Main is a decisive advantage over other universities. In addition to studying, it is already possible to gain initial practical experience in banks, auditing companies, or even in internationally active companies, and to gather crucial know-how for later professional life.
Julien Töpfer, Business Law LL.B., 7th semester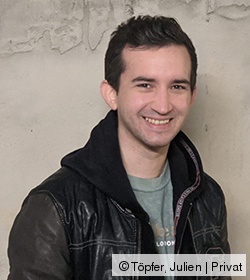 The business law program at Frankfurt University of Applied Sciences is particularly broad-based. The opportunity to become acquainted with many different areas of law during the course of study opens up a wide range of opportunities for practical work later on.
By completing two elective modules and choosing one of three specializations, students can tailor their studies to their own interests. The focal points of study provide a very good basis for later employment as a business lawyer at the business location Frankfurt am Main. The combination of lectures in law and business administration, a compulsory internship and seminar courses on the one hand, and the teaching of important key competencies on the other, makes the program very varied and enjoyable. At the Frankfurt University of Applied Sciences, lectures are held in smaller groups.
This enables a direct exchange with the lecturers, some of whom come from the business world themselves and thus teach in a particularly practical manner. The business law program offers excellent career opportunities.